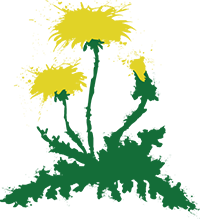 I was making great progress with my goal of encouraging the development of a more artistic culture in the Carlsbad Village. I had exhibited three solo art shows by 2010 at my Village based studio, hosted a number of community events, installed a variety of artwork in the streets and implemented numerous craft scavenger hunts in the Village. I was happy with the progress, but I also had my eye on another community.
Los Angeles was always on my radar and I would occasionally visit for art show opening receptions at the Merry Karnowsky gallery, as well as others on La Brea and beyond. I had been putting up a variety of pieces in Carlsbad at this time, but my street art seldom left the Village, though I was beginning to explore the LA streets with a keen eye on the colorful street art culture.
…I was beginning to explore the LA streets with a keen eye on the colorful street art culture.
In September 2009, I installed my first street art in Los Angeles, which coincided with the creation of my first ever drip art wheatpastes—dripping acrylic latex paint through hand cut stencil onto paper. After drying, the design would be cut away from the undripped paper and pasted to walls using a recipe of homemade clue called wheatpaste.
I installed a collection of Fast Walker Frank drip art wheatpastes in Los Angeles marking the introduction of my signature drip style to LA. Numerous LA blogs posted photos of this never-before-scene technique including Unurth.com, a popular blog at the time.
I would not return to LA to put up art for another year. The popular blog melroseandfairfax had begun documenting LA street art and was gaining a large audience. Motivated by the photos I was seeing on the blog documenting the emerging culture, I returned to LA and installed a series of drip art wheatpastes around Melrose Avenue.
That was the beginning of a close relationship with the LA community, as well as the editor of the MelroseandFairfax blog. We shared a mutual passion for creating a community based on the arts, specifically street art. The editor was as passionate about documenting as I was about creating. I began visiting LA often and always looked forward to the long conversations the editor and I had during each visit.
MelroseandFairfax motivated me to continue visiting Los Angeles, often making the drive 2-4 times a week. I began to receive large amounts of attention from the blog due to the large amounts of artwork I was installing in the streets, as well as for the complexity of each project.
While many LA street artists were installing simple wheatpasted designs to the infamous LA electrical boxes, I was halving hand created sculptures and attaching them to building walls. In addition, I would organize street art photo scavenger hunts culminating at my most recent halved installation.
In addition, the LA street art scene installed art in the middle of the night, signed aliases and covered their faces in all public appearances. I installed during the middle of the day, signed my pieces with my real name and never shied away from a photo.
In 2012, Dr. Jim Daichendt released a book titled Stay Up: Los Angeles Street Art. Dr. Daichendt conducted his research for the book by interviewing LA street artists live via a podcast. I was interviewed and included in the book. In addition, toured book signing events with other street artists included in the book.
I began to make friendships with the artists I shared the streets with. I soon realized that the complexity of my pieces, where I lived and the wiliness to publicly identify with my real name was not the only things that separated me from the rest of the artists. I quickly learned that the LA street art scene was filled with high drama. At times steering clear or if was more difficult that getting away with putting up art in the LA, but I managed to stay neutral on many fronts.
This allowed me to work on some amazing collaborations with some of my favorite contemporaries including a collaboration with NY x LA based artist Gregory Siff on Melrose Avenue, prolific and poetic artist Morley in downtown LA and a younger stencil artists AMK on the Spaulding Wall.
For the first time in my life, I had begun to feel a connection to a community outside of my hometown of Carlsbad. I was recognizing friends while walking the streets on Melrose Avenue, popping into LA storefronts to chat to local business owners and I was being recognized by LA street art enthusiasts.
In 2012, and after one of the most productive year's of my career, I was named street artist of the year by MelroseandFairfax. In addition, one of my murals on the Spaulding Wall titled Doodle's Black Eye was included in LAist.com's best murals of 2012.
As happens with any emerging trend, a group of gallery opportunists saw the commercial value of the thriving new LA street art scene and I was sucked into it. The early street artists of this emerging scene were organized by MelroseandFairfax in collaboration with the Maximillian Gallery at the Sunset Marquis Hotel. On June 30, 2011, the first street art group show titled What Graffiti is to New York, Street Art is to Los Angeles opened.
I was included in the show along other prolific street artists making an early mark in the scene including Alec Monopoly, Free Humanity, SmogCity, Bankrupt Slut, 2wenty, Gregory Siff, Smear, Desire Cherish Obtain, Leba, Cyrcle and more. It was my first show in LA, as it was for many of the other artists.
I sold two paintings that evening, as well as number of limited edition Rocket Pop prints. Caradoc, the owner of the gallery and I continued a working relationship over the next year as he found homes for many of my paintings and early large scale collages, many being shipped to Europe. Like most of the relationship he had with the other artists, my profession eventually ended due to unethical suspicions of Caradoc's actions, which ultimately brought him to court and forced him to flee the country.
Around this time a new gallery specializing primarily in LA street art had opened on La Brea named Lab Art ran by Iskander, an LA socialite with the means to sell art to the LA affluent. The gallery boasted the tagline the largest LA street art collective in the US. The space was enormous and was cluttered with art by every artist also found in the streets.
The curation was a bit like a store rather than a gallery, but Iskander was excited to show my work. He sold a few of my paintings and the staff always treated me kindly, but I was never keen on the "store" mentality of the place. I visited Lab Art during every LA visit, but soon lost interest in showing there, as most of my fellow artist did as well. Lab Art eventually closed their doors and rumors of unethical ways ran rapid.
My visits to LA continued while many artists focused on the gallery scene showing in the constant rotation on new galleries. At this time MelroseandFairfax had found itself in the midst of retaliation from disgruntled LA street artist upset with the lack of the blog's support and exposure. A series of altercations culminating with a brick thrown through the editors living room window eventually forced the end of the blog, ultimately demotivating the LA street art scene. In parallel with a crackdown by the LAPD, the scene faded and the streets went quiet.
I returned my focus on Carlsbad with a new studio and motivation to paint the local streets with large scale Doodle murals.