January 23, 2012 | Artwork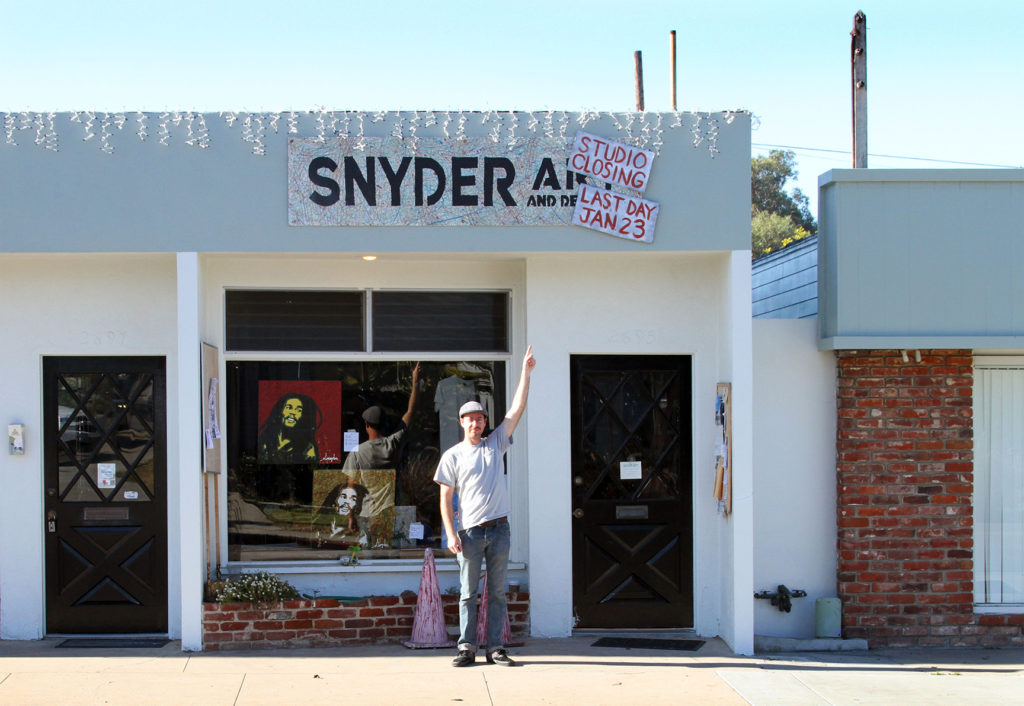 Prior to opening my studio, I was working on my degree and living in the SF Bay area where I began to document culture and community hotspots which encouraged the development of a network of minds fueled by creativity. I learned how culture helps both the well-being of a community, as well as promotes local business. I observed essential components of a thriving culture and developed a plan that, if implemented in a well organized manner, could nourish the development of culture anywhere.

With observations over a 3 year period of the culturally laden community of San Francisco, and a well organized 'implementation plan', I returned to Carlsbad in 2006 with the ambitious goal of encouraging the development of a more creative culture based on the arts and creativity in the Carlsbad Village.
The establishment of an easily accessible forum where artistic ideas and events could be shared communally was the first stage. Carlsbadcrawl.com was introduced in Nov. 2007 as the initial seed, and promoted the single idea of the development of local culture. The site has grown exponentially over the years and continues to encourage culture and promote local business.
During the time of the launching of Carlsbadcrawl.com, I began developing a large body of paintings in my garage with the idea of hanging them through-out the village for locals and village visitors to see, interact with and ultimately spark the realization that Carlsbad could be known for more than just the beach, great weather and action sports, but for the growth of an artistically laden community.
An easily accessible web forum for artistic thought had been established, a visual increase of art in the village had been achieved and with the opening of Snyder Art and Design in May of 2008, the third and most important stage of my 'implementation plan' had begun. A working art studio, not a gallery, where the public could visit and interact with an artist and the creative process was my goal when I opened my doors to the public. During the last 3.5 years, my doors have remained open and my creative process was accessible to thousands of local and village visitors, all which highly supported everything I shared with them. Out of my studio, I have created a wide variety of community projects implemented into the Carlsbad Village streets, hosted 3 solo art shows and 2 'You Create the Art' community painting shows, hosted movie nights, designed and distributed local Carlsbad Village calendars, created hundreds of paintings and met thousands of new friends and supporters.
Unfortunately, and due to a 100% increase in rent, I will be closing my studio after 3.5 years of the most creative, inspiring and rewarding years of my life. My last day is January 23, 2012.
I will miss the many daily visitors whom eagerly looked forward to seeing my newest paintings. I will miss the stage which allowed me to share my techniques and my passions with the public and I will miss working aside all my wonderful neighbors along UpState (N. State Street).
As of now, I have no certain future plans. I have poured everything into the goal of encouraging the development of a more creative culture in the Carlsbad Village, Which I began nearly I 4 years ago. Though my studio was the core of my plan, I don't see the closing of Snyder Art and Design as a step backwards, but as a shove forward.
When a sudden wall blocks your progress, paint it… then in becomes an addition to your path!

If you would like to continue following my journey, please become a fan of my 'Snyder Art and Design' facebook page after the below link:
https://www.facebook.com/pages/Snyder-Art-and-Design/122763651117400
Click the below link for a short film documenting a day at Snyder Art:
http://carlsbadcrawl.com/?p=1071
Click the below links for culture developing projects I have implemented into the Carlsbad community over the last 4 years: